Flood Assessments & Management Plans
Flood studies, risk assessments and floodplain management – Wollongong & NSW South Coast
Flood studies, flood management and risk assessment
At Rienco Consulting, our hydrologists are experts in the area of surface water hydraulics, flood mitigation and flood management.
Surface water hydraulics looks at the properties and flow of water, and how it behaves within different environments and structures (pipes, gutters, weirs, bridges, culverts, pits, etc.). Its applications range from urban flood management, to dam design or restoration and protection of natural water systems (rivers, creeks, etc.).
Our surface water hydraulics services
Flood data collection/collation/analysis
Determination of design flood levels (i.e. 1% AEP and probable maximum flood)
Hydraulic analysis of complex structures (weirs, bridges, culverts, pits, etc.)
Hydraulic modelling (1D, 2D finite element, 2D finite difference)
Development of catchment specific hydraulic structure blockage assessments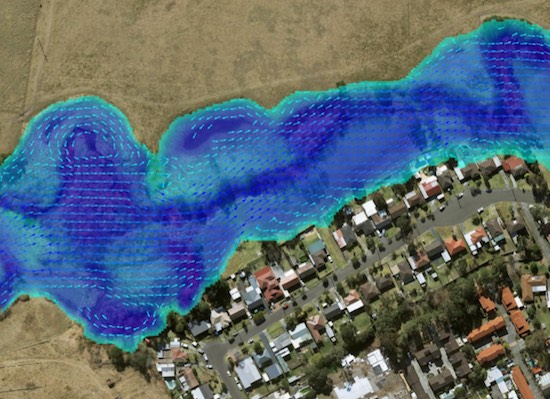 Surface water hydraulics studies
We are currently involved in several surface water hydraulics studies involving advanced modelling of flood behaviour in hydraulically complex systems.
In Horsley Creek, for example, flow patterns change dramatically with discharge (flood volume) and in rarer events flow is over land with little directional relationship to flow in the main channel. In addition, development has in some location led to the filling of small creeks and gullies to the extent that no 'channel' is left in these areas.
We used Tuflow (software) to simulate flooding in this system for a range of blockage scenarios and event patterns. The model also took into account the outfall conditions as flooding in the lower reaches of the system is controlled by the varying level of the lake into which the creek flows.
A further study has been completed in the Macquarie Rivulet, north of the Horsley Creek catchment. This was an important study for the region as it presented, for the first time, and opportunity to separately calibrate the hydrologic (WBNM) and hydraulic (Tuflow) models using the two stage/flow gauges and several recorded flood levels for the June 1991 flood event.
Flood studies
Further to our extensive experience in Surface water hydraulics, Rienco Consulting have particular expertise in the preparation of
Flood studies
Floodplain management studies
Floodplain management plans
Proximate causation and liability studies
Recently we completed a flood study of the Horsley Creek Catchment in Shellharbour for the Shellharbour City Council and the Department of Environment and Climate Change.
This 9km2 partly urbanised catchment has its headwaters in the Illawarra Escarpment and discharges into Lake Illawarra. It is a hydrologically and hydraulically complex catchment, with poorly designed watercourses, substantially (mostly unintentional) storages and ill-defined flow paths, often through built up areas at depth.
Flooding in the lower reaches on Horsley Creek is very much controlled by the level of the lake into which the creek discharges. With the hydrologic and hydrodynamic modelling we provided, the council was better able to understand the volume and flow of water they were dealing with, and design and manage better infrastructure to mitigate future flooding.
Our commitment to future research and development
As part of our commitment to provide the best possible service and technical know how in our field, Rienco Consulting remain involved in significant research and development projects in the area of floodplain management. Currently underway are:
A review of the FPDM 2005 floodplain hazard classification process
A review of the FPDM 2005 floodplain hydraulic categorisation process
Industry leading research on culvert blockages and the co-authoring of the Australian Guideline on Culvert Blockages
Proof of concept creation of a single hydrologic and hydraulic model for the entire state of Tasmania
Contact Rienco Consulting
If you have a specific enquiry, get in touch and one of our staff will get back to you as soon as they can.
In my capacity as an architect I have worked with Anthony on a large number of projects throughout the Wollongong area. Anthony has a deep knowledge of local stormwater issues, and in particular the risks and mitigation strategies that should be applied. He is very experienced in the requirements of local councils and has contributed to many successful applications of all scales, from renovations to developments and subdivisions. I can wholeheartedly recommend Anthony and the Rienco team for their practical and professional approach to assessing and solving stormwater related conditions, and as effective advocates in dealing with the council planning controls.
Michael Vail
Michael Vail Design
I use Rienco for all flooding and drainage matters on my projects because of their flooding modelling skills and pragmatic understanding of the difficulties of land development. The top-line integrity of their work was demonstrated recently on a very contentious project where the Rienco report passed a rigorous peer review by one of Australia's leading hydrology firms, with no change to the original findings and recommendations. It's comforting to know with Rienco you have that clarity of thinking helping find the best solution, and the confidence that it will be right.
Land Development Project Manager